With the full compliment of sound libraries including Steven Slate Drums, Stylus, Ivory, Battery, Trigger, Groove Agent, Halion and all the best Waves and Universal Audio plug-ins, CBG's unique programming skills have won him accolades and allowed him to keep recording budgets lower. 
And as a former singer, he prides himself on getting vocal performances that even surprise his clients.
CBG's NB Studios is sponsored by Steinberg and Yamaha Canada Music and has the latest cutting-edge microphones and recording software available.
BIO - Chris Burke-Gaffney aka "CBG"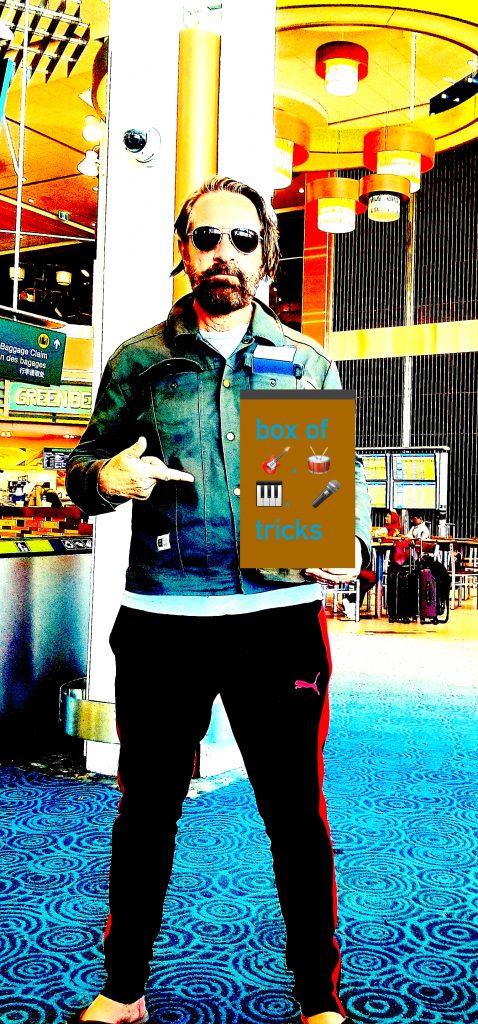 Chris Burke-Gaffney – aka "CBG", is an acclaimed Canadian
songwriter, musician, producer and artist developer. Chris
oversees the daily operations of CBG Artist Development, which consists of: CBG Artist Development / NB Studios / Vatikan Records.
He formed CBG Artist Development to manage and develop singer/songwriter Chantal Kreviazuk and co-wrote her triple
platinum album "Under These Rocks and Stones".
Chris started his career as singer/bassist for The Pumps
(Polygram). He signed his first record deal as a teenager and
toured the country with the likes of Triumph, Guns & Roses and
AC/DC. While in his 20's Chris wrote his 1st top 10 single. The
group was Orphan (CBS) and the song "Miracle" is still a staple
on classic rock radio across Canada. It was during this period
that Chris learned the "ins and outs" of touring and making
records.
Since then, Chris has written and produced literally hundreds of
songs and has helped artists in developing material including
McMaster & James, Kyle Riabko, MacKenzie Porter, Sierra Noble, Kelly Bado and Petric. Chris' songs/productions have been recognized by numerous awards including Juno, New York City Songwriter Award, American Music Award, Western Canadian Music Award, Canadian Aboriginal Award, Native American Music Award MB Country Music Award. He's had hit songs in the US, Australia and Canada.
Many of his songs have also been used for movies and television including Chicago Hope, Felicity, Malcolm in the Middle, Degrassi, Real World and Providence.

Chris' behind the scenes work earned him "Manager of the Year"at the 2000, 2001 and 2002 PMA Awards and at the WCMA Awards in 2005.

Chris is a former director of The Songwriters Assoc. of Canada
Kelly Bado
Banned & Outlawed
Bucky Cromwell
Eagle & Hawk
Alan Doyle
Lexi Ebert
Colin Elmore
The Daddy Complex
Daniel Desorcy
Desiree Dorion
Rhonda Head
Indian City
Chantal Kreviazuk
Moody x 2
Orphan
Low Budget Rockstar
Petric
MacKenzie Porter
The Pumps
Alex Runions
Billy Simard
Sandra Sutter
The Treble
Project Monster
Kyle Riabko
McMaster & James
Sierra Noble
The Keats
Inspire Awards
Driver
Sara Diamond
Platinum Black
Jim Cuddy
Raquel Cole
Red Thunder Bird
Harlequin
"With too many accolades to mention, this man is, by professional reputation and talent alone, intimidating. Within the first hour of working with him, I was smitten. He puts his heart and soul into the work that we share, and is extremely respectful and curious. The end result is music that feeds the soul as well as the mind and auditory senses. I love working with CBG and can't wait for the next opportunity."
" I can safely say I would not have achieved the success that I have without CBG's help."
"Chris has a knack for understanding what a song truly needs both during the writing process and in the studio. His creativeness and ability to dig down deep for a song is second to none. I have been honoured to work with Chris throughout my career."
"One of the most creative and innovative people I've worked with. He combines brilliant songwriting with a keen sense of artist development."
"The best A&R person in the country."
"Chris is a dream to work with. I've always appreciated his willingness to collaborate with openness and consideration for what works for me as an artist. Not only is he a stellar producer, but he graciously helped to connect me with Nashville songwriters that without his generosity, I would not have had an opportunity to work with. Chris is not only my colleague but someone I am proud to call a friend."
"CBG brings the best out in every session...talent, patience, fun and great finish."
"Chris is the best when it comes to bringing life to what you hear in your head, and make it sound even better. He is my favourite person to work with because he makes me feel comfortable and confident in the studio. Even with a 4 months old baby tagging along!"
"Chris Burke-Gaffney, since the day I met him, has been a top notch, hard working, hard rockin, kick a** producer who I'm so honoured and proud to work with on a professional level in music for the past decade! Mr. Burke Gaffney is highly respectful and compassionate with all of his work and it shows in the magic that is made in the studio! As an indigenous performer I feel highly respected and appreciated as a singer/songwriter! CBG you are THE best! Thank you so much CBG for all the amazing music that's been made thus far! And cheers to more amazing music going forward!"
Juno Winner – Eagle & Hawk – Best Indigenous Record (co-writer/producer)
Juno Nomination – Indian City – Best IndigenousRecord (co-writer/producer)
Triple Platinum certified – Chantal Kreviazuk (co- writer/producer/manager)
Gold Certified – McMaster & James (co-writer/ producer/manager)
New York City Songwriter Award – Best International – Sierra Noble(co-writer)
#1 at Country Radio Single – Country Music Radio Australia – Jeddy Road (co-writer)
American Music Awards NYC – Best song/songwriter "What if We Could" – Sierra Noble (co-writer/producer)
Western Canadian Music Awards (WCMA) – Best Country Record "Best Day" – Keith & Renee (co-writer/producer)
Canadian Aboriginal Awards – Best Recording – Eagle & Hawk (co-writer/producer)
ECMA Nomination – Best Country Recording – The Keats (co-writer/producer)
"If You Ask Me To" top 10 Country Radio – MacKenzie Porter (co-writer/producer)
WCMA – World Recording of The Year – Kelly Bado (producer)
Native American Music Awards – Best Americana Recording, Song Of The Year,
Best New Artist -Sandra Sutter – (co-writer/producer)
MB Country Music Awards (MCMA) – Best Songwriter
Manitobee Awards – Best Producer
WCMA – Manager of the Year (3 x)
MCMA – Best Song – Petric (co-writer/producer) 
8 nominations in the 2021 MCM Awards
 "500 Years" – Rhonda Head breaks top 20 on the Europe's Biggest World Music Radio Chart
"Produced with the financial participation of Manitoba Film & Music"